Meet Our Team: Key Players at Robinson Crusoe Holidays
When it comes to creating unforgettable travel experiences, Robinson Crusoe Holidays stands out as a pioneer in the industry. Our dedicated team, led by CEO Mr. Keshab Simkhada, is driven by a passion for adventure and a commitment to providing top-notch services. Let's take a closer look at the individuals who make our company thrive.
CEO: Mr. Keshab Simkhada – Leading the Way
Keshab Simkhada hails from the picturesque Dhading District in the heart of Nepal, surrounded by the majestic Ganesh Himal, Ganga Jamuna, and Manasalu Trek regions. As the head of our Operations Department, Keshab orchestrates tours in Bhutan, Tibet, and beyond. His extensive experience in planning and executing travel programs worldwide is a testament to his expertise. Beyond the travel realm, Keshab is deeply committed to social initiatives, providing crucial health and educational support to remote areas in Nepal.
MD: Mr. Ramesh Dhakal – A Trekking Expert
Mr. Ramesh Dhakal was born in the historically rich Gorkha District. His journey in the trekking industry began as a Trekking Porter in 1998. With years of hands-on experience, he ascended to the role of Trekking Guide. Mr. Dhakal's passion for adventure and travel led him to establish a travel agency specializing in trekking, travel, and tours. His multilingual skills, including English, Hindi, and basic Chinese, ensure seamless communication with our diverse clientele.
Operational Manager: Mr. Biplov Banjara – The IT Virtuoso
Mr. Biplov Banjara, our Operational Manager, also hails from the historic Gorkha District. His responsibilities encompass overseeing the organization's activities. Biplov's IT prowess, honed over the years, is a valuable asset to our company. From diagnosing hardware and software issues to implementing cutting-edge technologies in sales and marketing, his contributions are instrumental in our success. His journey in the IT sector began during his school days, shaping him into a tech-savvy leader.
IT Promoter: Mr. Kishor Simkhada (USA) – A Global Perspective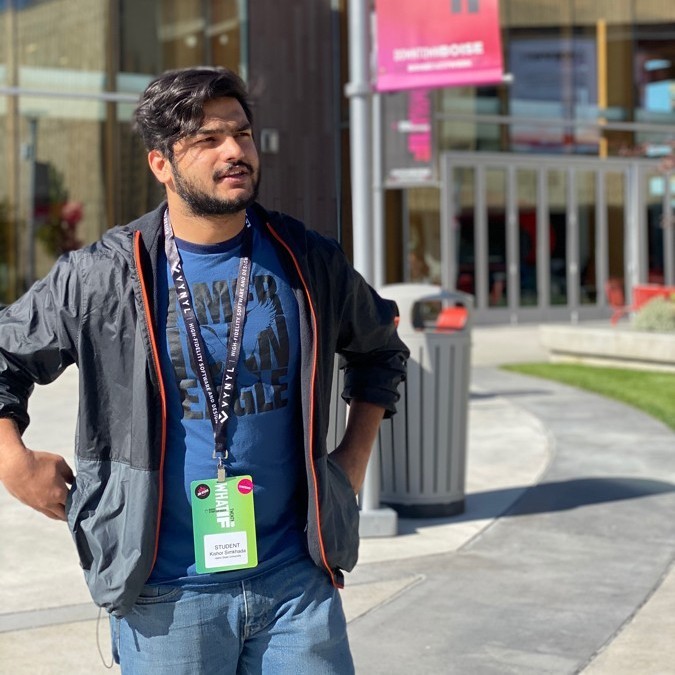 From the heart of Dhading District to the shores of the USA, Mr. Kishor Simkhada brings a global perspective to our team. A graduate of Idaho State University with a specialization in IT, he infuses our company with his seven years of international IT experience. Kishor's transition from the IT sector to tourism was driven by a passion for travel and adventure. This unique blend of innovation and exploration makes him a valuable asset in our tech-driven approach.
Crafting Digital Excellence: Kishor Bhatta, Web Design – Where IT and Travel Converge
Kishor Bhatta's story is a testament to the seamless fusion of information technology and the travel sector. With five years of international IT experience, Kishor adds a layer of technological finesse to Robinson Crusoe Holidays' sales and marketing strategies. His passion for travel and adventure, combined with his IT acumen, keeps our company at the forefront of digital excellence.
Digital Dynamo: Prabin Shakya, Web Promoter – Bridging Worlds: IT and Tourism
In the crossroads of information technology and the allure of exploration lies Prabin Shakya's narrative. With seven years of IT immersion, including international ventures in Nepal, he is a technological powerhouse. His expertise converges seamlessly with his passion for travel, creating a dynamic force that empowers Robinson Crusoe Holidays with the latest in sales and marketing technology.
Charting a Vision: Where Innovation Meets Travel
In the words of Prabin Shakya, "Robinson Crusoe Holidays has been established to offer something new to travelers who plan to explore multiple countries in one journey. We aim to provide travelers with a hassle-free and safe experience by leveraging the latest and innovative technologies." These words encapsulate the ethos of Robinson Crusoe Holidays – a visionary enterprise that combines technology with travel, opening doors to extraordinary adventures worldwide.
Our Services for You
At Robinson Crusoe Holidays, we are committed to providing personalized service to our guests. Whether you're driven by your interests, time constraints, or physical and mental preparedness, we have a trip that suits you.
Explore the Annapurna Region
Hot Spring Trek
Panchase Trek
Ghalegaun Trek
Chepang Hill Trek
Chisapani Nagarkot Trek
Ghorepani Ghandruk Trek
Annapurna Circuit Trek – 14 Days
Annapurna Base Camp Trek – 14 Days
Discover the Everest Region
Everest Base Camp Trek – 12 Days
Everest Three Pass Trek – 17 Days
Langtang Region Adventures
Holy Gosainkunda Trek – 6 Days
Langtang Valley Trek – 9 Days
Langtang Gosainkunda Chisapani Trek – 13 Days
Explore Restricted Regions
Manasalu Area Trek – 15 Days
Upper Mustang Trek – 14 Days
Nar Phu Valley Trek – 12 Days
Rara Lake Trek – 11 Days
Beyond the Mountains
Ganesh Himal Trek
Kanchenjunga Trek
Makalu Trek
Cultural Experiences
Honeymoon Tour Package – 10 Days
Nepal Pleasure Tour – 8 Days
Adventure Package Tour – 14 Days
Historical Nepal Tour – 10 Days
Spiritual Tour Package – 12 Days
Kathmandu Unique Tour – 5 Days
Historical Gorkha Village Tour – 9 Days
Nepal India Cultural Tour – 10 Days
Nepal Bhutan Tibet Tour – 12 Days
Customize Your Journey
If you prefer to plan your tour or trek according to your interests and schedule, we've got you covered. Visit our "Plan Trip" or "Customize Trip" section, and we'll tailor an experience just for you. Robinson Crusoe Holidays is dedicated to delivering exceptional service to our guests, guided by our cultural motto: "Matri Debo Bhaba, Pitrii Debo Bhaba, Atithi Debo Bhaba." This means treating our guests as gods, ensuring their comfort and satisfaction throughout their journey.