After establishing the state in Simraungadh in 1097, his successors Gang Dev, Narasimha Dev, Ramsinha Dev, Shaktisinha Dev, and Harisinha Dev ruled the state. In 1324, the kingdom of Simraungadh was destroyed by the invasion of Gyasuddin Tughlaq. Simraungadh is a picture of the ruins of the political, economic, social, and cultural history of the eleventh century. As there are a lot of Historical Sites Close to Simraungadh.
Not only that, Simraungadh is a civilization. A state that came into existence in the eleventh century, Simraungadh state was rich in art and culture until the first half of the fourteenth century. Nanyadev of Karnatvansi established the kingdom by making Simraungadh the capital. Kotwali, Lakshmipur, Bhagwanpur, Devapur, Hariharpur, Karchowa, Amritjung, and Golaganj are some small villages within this stronghold area. This fort is Kotwali in the north and Srinagar, Nayakatola, Khajahani, Jhamri, and other villages and reaches the Nepal-India border in the south. Some of the Historical Sites Close to Simraungadh are:
Kankali Temple/Skeleton:
The Shikhar-style Kankali temple is located in the main market area of ​​Simraungadh. The statue of Kankali Mai, which is a famous religious place in the area, is in a somewhat broken but repaired condition. After the Islamic invasion, people began to settle in Simraungadh, which was in ruins. Mansaram Baba, who came at the same time, organized the temple. There is an ancient clock on the east side of this temple. At that hour, Lom. No. 119 i.e. Vikram Samvat 1349 is mentioned.
Mansaram Baba's Samadhi/Ashram:
To the right of the Kankali temple is Mansaram Baba's tomb near Isra Lake. The samadhi site is preserved inside a dome-style temple. Where earlier Mansaram Baba used to burn Akhand Dhuni. Locals say that is where he was buried. Some raised ground can be seen in the central part of the tomb. Baba's grave is also there.
Lake Isra:
There is a huge pond to the east of the temple of Kankali Devi. It is spread over about eight acres of land. There is a popular legend here that this lake was prepared by an asura in one night for the king Shivsingh (Sibaisingh) of Simraungadh for his beloved Isra. Commercial fish farming has also been done under contract in Sundar Talau. There is a possibility that such a historical pond can be developed as a tourist attraction rather than farming fish on contract.
Other temples:
There is a Parvati temple in the Kankali temple complex. There is an attractive black stone statue inside this temple near Isra Lake. However, some broken idols have been repaired and worshiped. There are three Shivlingas in the Shiva temple in Lahar of Mansaram Baba's temple. Along with Mansaram Baba's tomb, there is a statue of Vishnu kneeling on the right knee and bowing down. This statue is also somewhat fragmented.
Ranibas: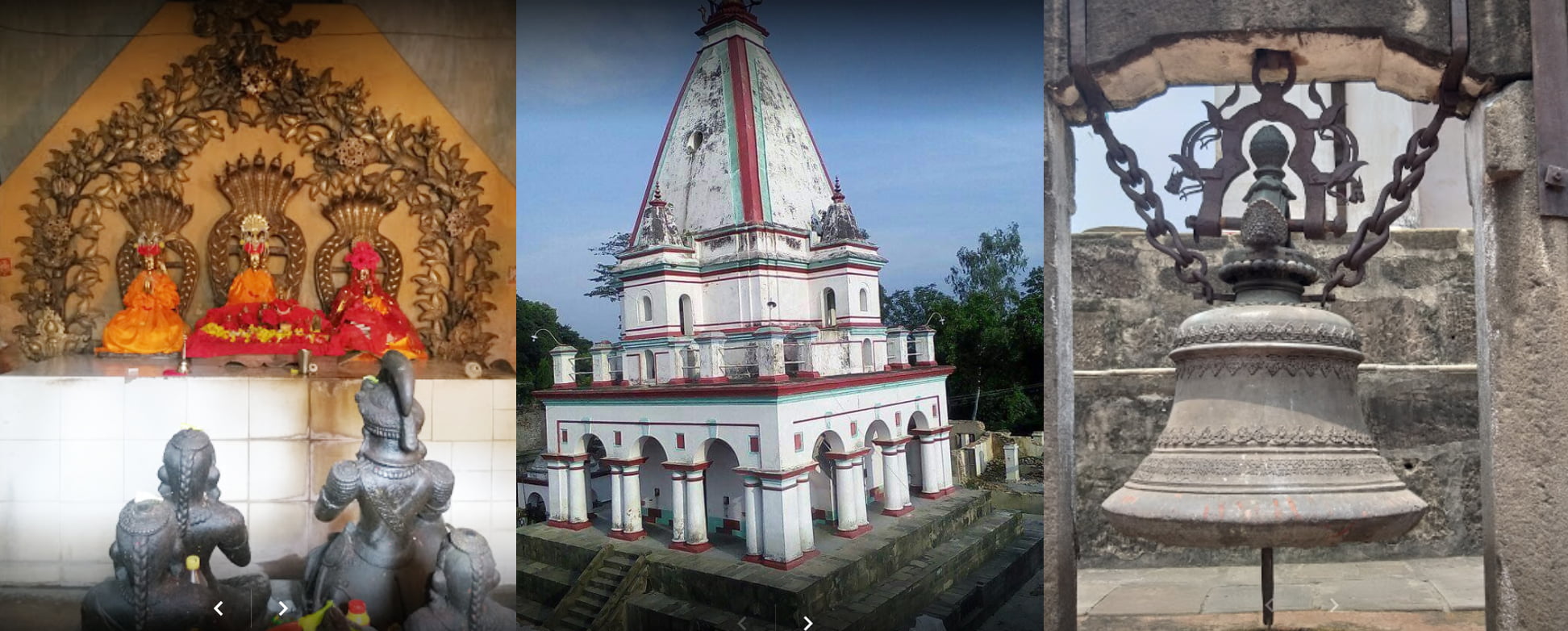 About one and a half kilometers west of the Kankali temple is the Ranibas temple. It is located a bit higher. That account indicates that he was Rajaprasad of Simraungadh. In the vicinity of this temple, there are ancient ruins as well as materials of archaeological importance (pottery, pottery, idols, currency, etc.). There is also an ancient well in the western corner of the temple. Janga Bahadur Rana found ruins of a palace and temple while going hunting. After the death of Janga Bahadur Rana, while hunting, his son Jitjung built the Ram temple in his father's memory. Inside the Ram Temple, the statues of Janga Bahadur and Rani have been replaced by facing the statue of Ram Sita.
Hariharpur:
Hariharpur village is located about one mile northwest of Kankali temple. A few years ago, the Department of Archeology also excavated some high mounds here with the help of foreign experts. Excavation pits are still present on the mound where the walls of bricks can be seen. From where the artistic stone pillar (tham) was found. Which has been replaced at the same place. According to the locals, Taluja Bhavani established in Bhaktapur was taken from here by Harisinh Dev while escaping.
The box:
There is an artistic stone found during an excavation in the Hariharpur area. Locals also call it a stone box or vault. In fact, it looks like a stone door of a temple. If you dig somewhere in this place, swarms of whirlwinds will come out. That is why the locals say that this place is the ruins of Tulja (Taleju) Bhawani. Locals also tell legends of people who come to steal this stone box being bitten and killed by snakes.
Security wall:
In front of the temple of Kankali Devi is Isra Lake. On the east-south side of it, there is a high mound of mud as a security zone of Simraungadh. It spreads north to south. Locals also call it Tandul Parbat. It is said that if you look closely at that place, you can find burnt black rice. It is said that the field of damaged rice is spread in many places. Also, It is said that during the construction of the police post near the Ranibas temple, even when digging two feet down, rotten rice was found.
Thus, Historical Sites Close to Simraungadh have become the best tourist destination for now.